If you haven't had a rotisserie chicken, you haven't lived! We love using a rotisserie chicken for quick and easy weeknight cooking. Plus, rotisserie chickens are typically so inexpensive they're a great way to feed your whole family for just a little amount of money.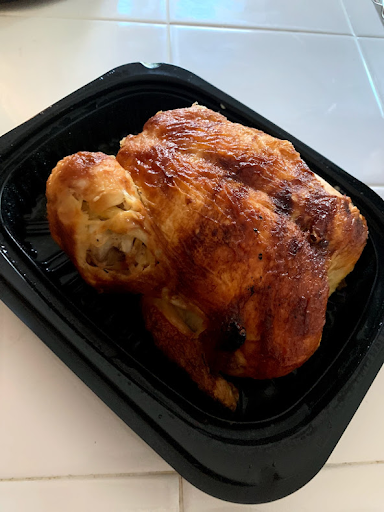 Here are five of our favorite recipes to use this OH-SO-DELICIOUS and INEXPENSIVE chicken. Sure, you can just devour it as is, add a salad, and crusty roll and call it a night. But you can also mix it up with one of these five simple but delicious recipes using a rotisserie chicken.
Save time and prep your rotisserie chicken: While it's still warm, remove the skin and shred the chicken. You can store it in your fridge for two days. Doing that simple prep work will save you time when you're ready to cook -- the work will already be done, all you need to do is add the magic! You can thank us later.
Easy Rotisserie Chicken Alfredo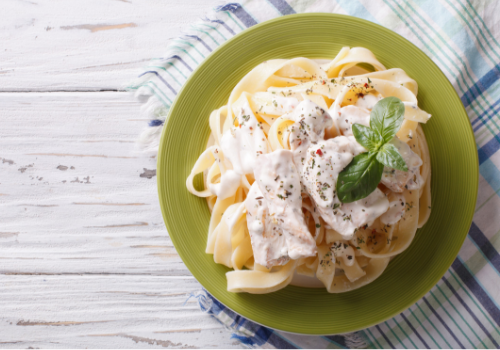 Ingredients:
Package of fettuccine pasta (or whatever pasta you have on hand)
Jar of your favorite alfredo sauce
2 cups of chopped rotisserie chicken
2 tablespoons parmesan cheese
Salt and pepper to taste
Optional ingredients:
Jar of fire-roasted red peppers, drained and sliced
Jar of artichokes hearts, drained and chopped
One cup of cooked peas
One cup sliced mushrooms
Red pepper flakes to taste
Fresh spring greens and/or herbs to taste
Directions:
Cook pasta as directed and drain.
In a medium saucepan, combine cooked pasta, chopped chicken, alfredo sauce, and parmesan. Add optional ingredients here as well.
Salt and pepper to taste.
Chicken Rotisserie Enchiladas

Ingredients:
2 cups shredded rotisserie chicken
16 oz. of your favorite enchilada sauce
3 cups colby jack shredded cheese
8-10 corn tortillas
1 can black beans, drained and rinsed
Directions:
Preheat the oven to 375 degrees.
Place a few spoonfuls of enchilada sauce in the bottom of a glass baking dish.
Place a layer of tortillas in the bottom of the dish, overlapping to cover the entire surface.
Layer with ½ of the chicken, ½ beans, and ⅓ cheese, ¼ sauce and then another layer of tortillas.
Repeat with another layer and cover the top with remaining sauce and cheese.
Cover the baking dish with non-stick aluminum foil and bake covered for 20-30 minutes or until bubbly.
Remove the foil in the last 5 minutes to lightly brown. Allow the enchiladas to rest for 10 minutes before cutting.
Top with chopped cilantro, scallions, and a dollop of sour cream, if you wish.
Easy Chicken Salad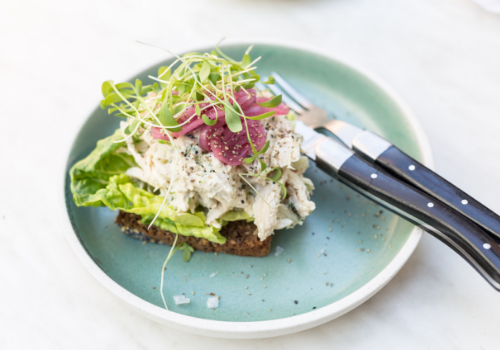 Ingredients:
2 cups shredded rotisserie chicken
½ cup mayonnaise
1 tablespoon mustard
1 stalk celery chopped
1 teaspoon onion powder
1 teaspoon salt
½ teaspoon pepper
½ teaspoon dill
Directions:
Mix all ingredients in a bowl and serve on crackers (we love it with pickled onions and everything bagel seasoning), sandwich bread, rolls, on a salad, or in a tomato cup.
Buffalo Chicken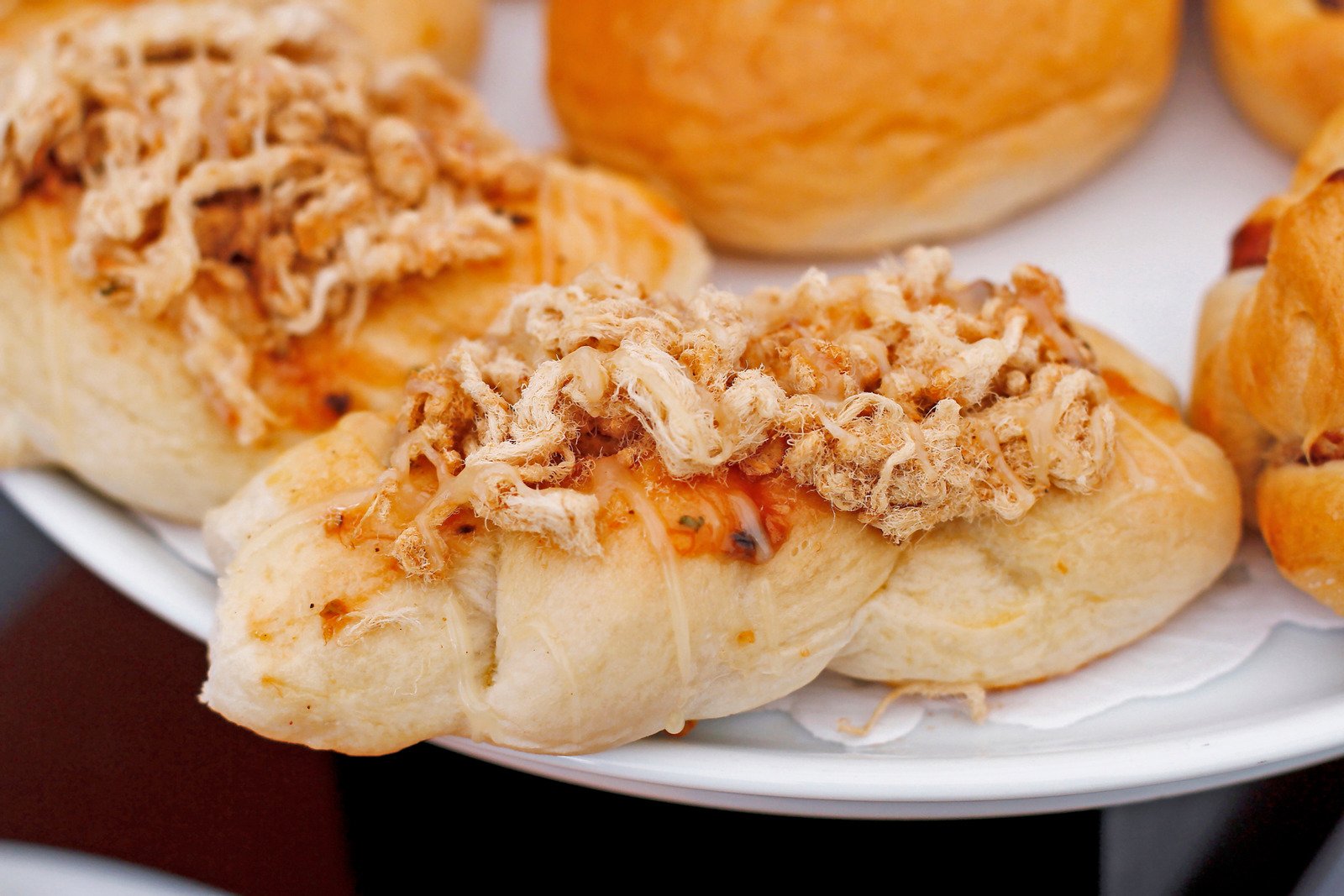 Buffalo chicken is our family favorite so we are always trying to create different recipes with buffalo sauce. Sandwiches are easy to serve the family and its easy to add a delicious salad, homemade french fries, or corn on the cob!
Ingredients:
3 cups shredded chicken
2 cups Buffalo sauce
8 oz. softened cream cheese
Cup of your favorite shredded cheese (we used mozzarella)
½ cup ranch dressing
Rolls
Directions:
Add shredded chicken in a baking dish and pour 2 cups of buffalo sauce over it.
Add cheeses, ranch and mix together well.
Cover with foil and bake for 15-20 minutes at 350 until warm and bubbly.
Serve on rolls as a sandwich, on top of greens as a salad, as a dip with celery and chips, or top as nachos. Enjoy!
Spicy Tortilla Chicken Soup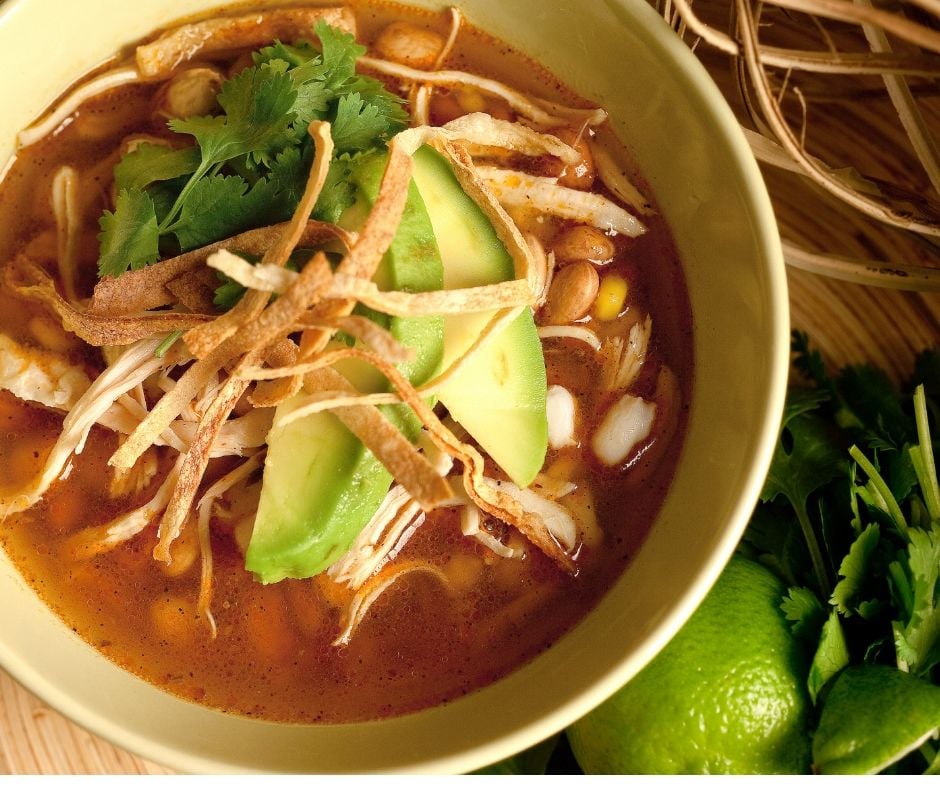 Ingredients:
5 cups of shredded chicken
2 tablespoons avocado oil
1 onion, finely diced
1 yellow bell pepper, diced
1 jalapeno, seeded and diced
Salt and freshly ground black pepper
2 teaspoons taco seasoning
1 large jar of roasted red peppers
1 can of corn
1 can of beans (we used pinto)
2 (14.5-ounce) cans diced Mexican style tomatoes
1/2 cup roughly chopped cilantro (reserve 1/4 cup for topping)
1/4 cup of lime juice
4 cups chicken broth
Pre-bought tortilla strips or crushed tortilla chips for topping
Optional Toppings:
Sour cream, for topping
Monterey Jack, shredded, for topping
Lime wedges
Sliced avocado
Directions:
Shred 5 cups of rotisserie chicken.
In a large heavy-bottomed pot, heat the avocado oil on medium-high heat.
Add onions, bell peppers, jalapeno, salt, and pepper. Cook until soft.
Add the taco seasoning and stir until fragrant.
Add the shredded chicken, tomatoes, roasted red peppers, corn, beans, cilantro, and lime juice.
Add chicken broth and simmer on low for ten minutes.
Season with salt and pepper, to taste.
Ladle soup into bowls and top with tortilla strips or crushed chips.
Optional toppings: sour cream, Monterey jack cheese, cilantro, sliced avocado, and lime wedges.
This story originally appeared in Macaroni Kid EATS! Want to be a member of our foodie family? Sign up to get Macaroni Kid EATS! in your inbox once a month for free!