In Lake Huron, between Michigan's Upper and Lower peninsulas, lies an island that now has a huge place in my heart. What once held a long time spot on my 'Places I Must Go Someday' list is now the place where my family created some of our best vacation memories just a few weeks ago.

Known as the gem of the Great Lakes, Mackinac Island is a National Historical Landmark accessible only by ferry. Motor vehicles are not allowed on the island - horse drawn carriages and bicycles are the main methods of transportation. Knowing I wanted the full Mackinac Island experience, staying on the island was key. Mission Point Resort agreed to host us in exchange for this review. I truly think staying at Mission Point made all the difference in making this an incredible trip to remember.
Mission Point arranged our ferry tickets through Shepler's Ferry. When it was time to head to the island, we arrived at Shepler's St. Ignace dock, where their staff unloaded and tagged our bags. They were delivered straight to our hotel room on the island without us having to do another thing with them. It was a huge 'lifesaver' to not drag around all of our bags, especially with the little kids in tow. As a mom, it's always such a treat to have someone else taking care of things!




The ferry was a major hit with my kiddos. We all loved seeing the Mackinac Bridge from the boat - the bridge spans for five miles! After a quick sixteen minute ride, we were docking at the island and beyond pumped to start our island adventure.






One of the reasons I was excited about our escape to Mackinac Island was because I was ready for the pace of life to slow down a bit. As soon as we stepped off the boat, I could see we were in for some quality, relaxing family time. The downtown streets were lined with bicycles, horse drawn carriages and the smell of fudge was in the air.

Wanting to enjoy the area, we decided to pass on the horse drawn taxi ride and instead make the fifteen minute walk to Mission Point Resort. As we headed to the resort, my kids were bubbling with excitement and pointing out all of the sights - the horses, Fort Mackinac sitting high on the bluff, the boats and then before we knew it, we were at Mission Point Resort.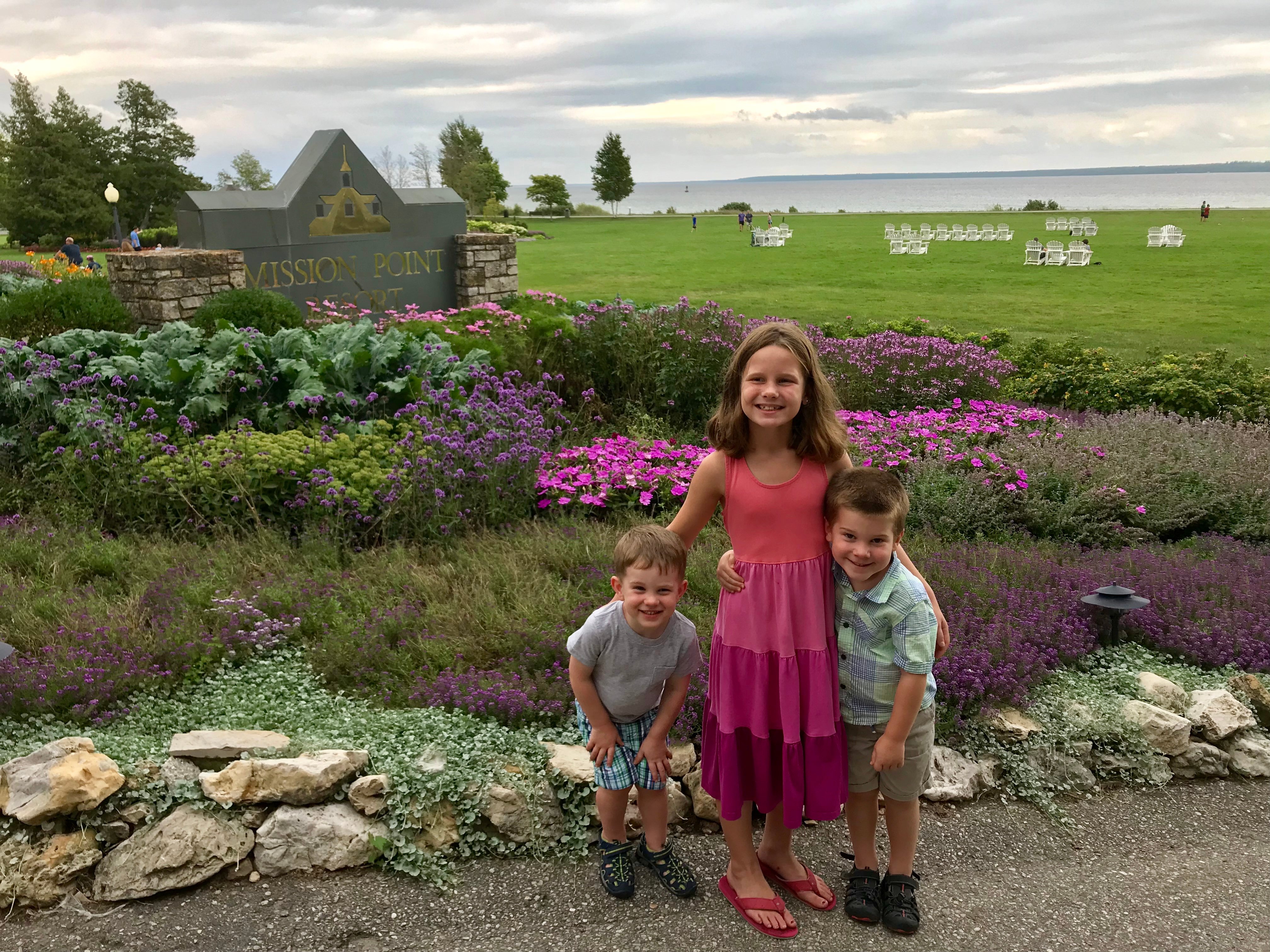 The adirondack chairs placed in the grassy lake front filled with families playing yard games or simply reading books aren't just posed for the resort's website. I couldn't help but immediately notice how families were playing together rather than absorbed in their electronics. Such a rare thing to see anymore. This area quickly became one of my favorite Mackinac Island spots.

Check-in was a breeze and before long we were off to settle into our Junior Hot Tub Suite in the Straits Lodge building. Our room featured a king size bed, separate sitting room with a sleeper sofa and a private 300 square deck with a full size canopied hot tub. The room is designed to accommodate four comfortably or five with small children. As a family of five with small children, we easily fit in the room even with the addition of a rollaway bed.
| | |
| --- | --- |
| | |

We decided to go a bit fancy to celebrate our first night on the island and enjoyed one of the resort's five onsite restaurants, Chiatni. Chianti features house-made Italian pasta dishes. My children loved having a chance to enjoy Shirley Temples and we gave a toast to Mackinac Island and a family adventure. I ordered the scallops. They were cooked perfectly and the roasted tomato risotto accompanying them made me swoon. Hands down one of the best things I have ever tasted. Until dessert rolled around and we ordered the lemon bars and chocolate hazelnut cake. I found myself swooning again. The wait staff could not have been more accommodating to my children in making sure it was an evening to remember.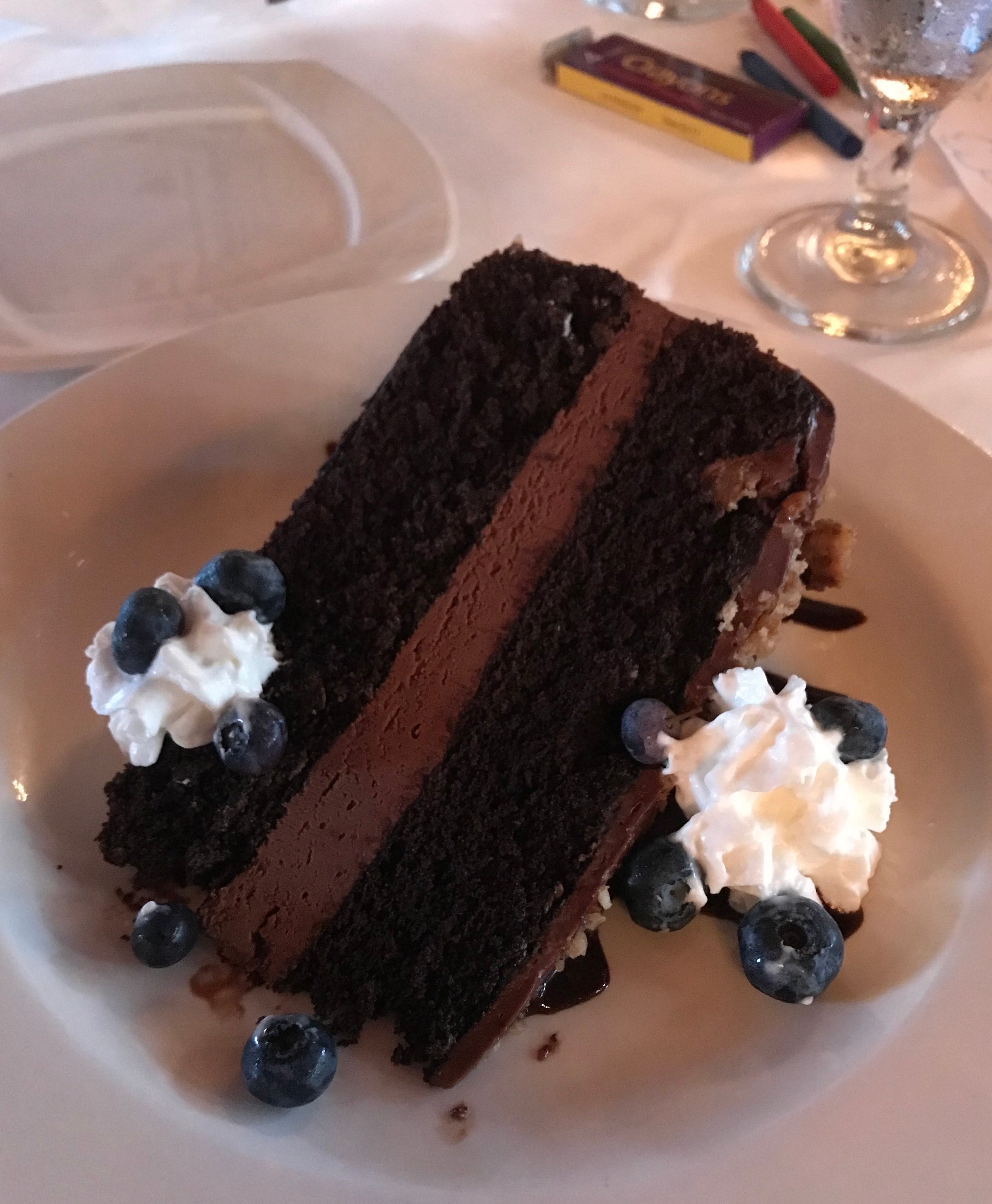 One of main things I loved about Mission Point Resort was knowing my kids would eat for free during out stay. In fact, all Mission Point guests under the age of 12 eat for free at any of their onsite restaurants when accompanied by an adult. It's a huge savings for a family over the course of a vacation!

The next day, we had a big day of exploring planned so we started with a hearty breakfast at Mission Point's Round Island Bar & Grill. The grill features a breakfast buffet which is always my preference for breakfast out. Since everyone is hangry in the morning a buffet means no food delays and everyone gets exactly what they want. My favorite part of the buffet was the omelette bar. As a mom who is always responsible for making breakfast for my three kiddos, it was so nice to eat a hot breakfast made specifically for me. And again, the kids ate for free!

After breakfast we were fueled and ready for a full day of activity - Fort Mackinac, Mackinac Island Carriage Tours, biking the 8.2 mile loop on the outer skirt of the island and just plain exploring! To find out more about our day and for some recommendations about what to, click here.

The last thing we did at the end of the day was the scenic loop bike ride around the island. You can read all about it here. Mission Point sits right at the beginning of the loop around the island which made returning the bikes to the resort and heading to dinner at Bistro on the Greens afterwards super convenient.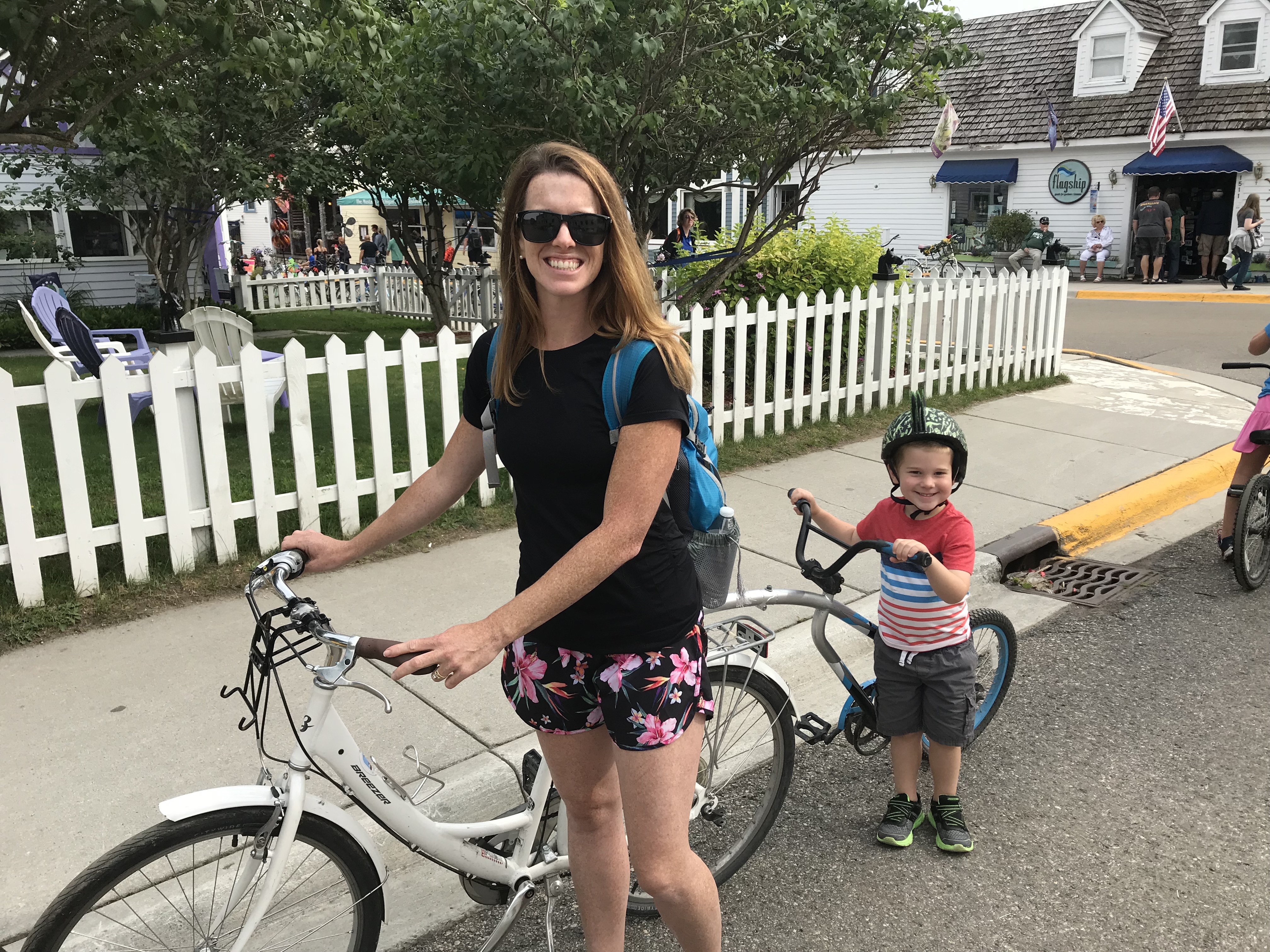 I couldn't help but think so many times during our stay how Mission Point really goes all out to make a vacation both fun and affordable for the whole family. Their complementary Kids' Club offers childcare during set hours, but they can also provide you with a babysitter so the adults in your group can go out for a bit. The resort boasts the island's only golf (18 hole putting course) and after 9 PM it turns in to Glow Golf. I noticed families of older kids hitting up Glow Golf - such a smart way to get time in doing something fun with the 'big' kids! Of course the pool is a hit with all families. Add in tennis courts, a spa, salon and an impressive fitness center and you've got something for everyone in the group.

During our Mackinac Island stay, I kept remarking to my husband about how friendly everyone on the island was. Nobody was in a hurry. People weren't distracted on their phones. There were so many grandparents with their grandchildren. The staff at Mission Point always met us with a smile and were eager to make sure everything was perfect.

Before leaving the island the next day, I had to watch one more sunrise over Mission Point. I snuck out early in the morning and laced up my running shoes. I've been fortunate to run in some pretty amazing spots and Mackinac Island is now tops on my list.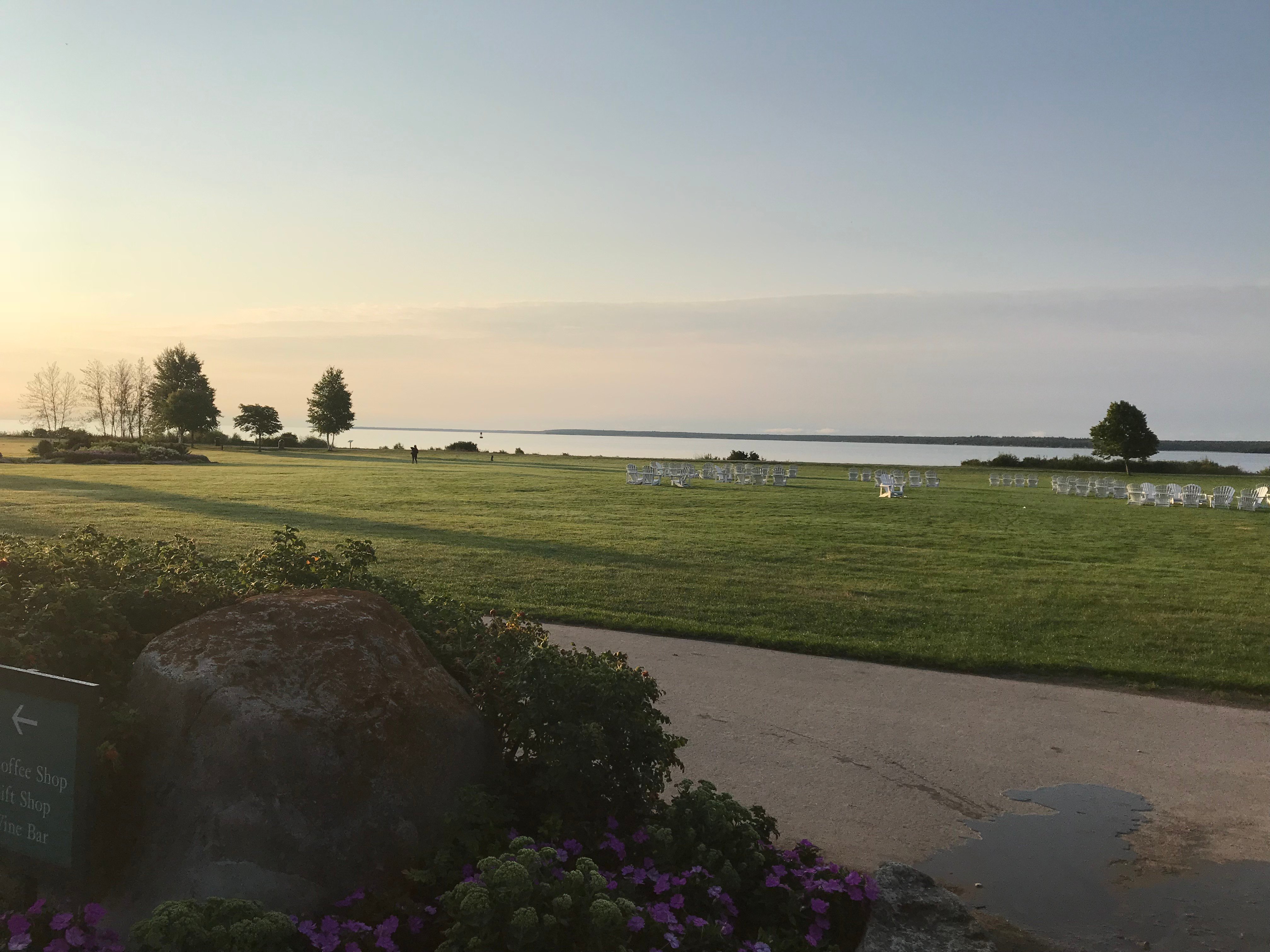 Our return trip was just as smooth as our arrival. The resort tagged our bags and sent them to the ferry. We simply walked back into town, tried our best to take in the magic of Mackinac Island one last time and boarded the ferry. As we watched the island fade away, I couldn't help but realize how full my mama heart was. Mackinac Island had captured my children's imaginations. The people, the boats, the carriages, and most of all, Mission Point Resort, made this a lifelong memory for my family. Every place we go as a family, we purchase a Christmas ornament to remember our travels. I know our Mackinac ornament will warm our hearts for years to come as we reflect back fondly on our trip.


We were hosted by Mission Point Resort in exchange for this review. As always, all opinions are 100% my own.