Skyview Gymnastics
2603 Back Acre Circle, Mount Airy, MD 21771
301-829-7998
http://www.skyviewgymnastics.com
https://www.facebook.com/skyviewgym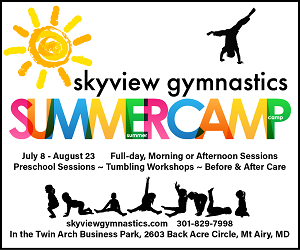 Skyview Gymnastics Summer Camps run from July 8th through August 23rd, with a variety of schedule options to choose from.
We offer full-day, morning, and afternoon sessions for children ages 6 to 14, and special "Tumbling Intensives" for older children. Preschool and kindergarteners - ages 3.5 to 5.5 - are invited to join us for 1/2 day sessions two, three or five mornings per week. Each Camp is one week long, but children are welcome to participate in one or many! No two sessions will be exactly alike!
In addition to the traditional gymnastics events - bars, beam, vault, trampoline, tumbling, and acrobatics - every Skyview Camp is built around a special theme and includes a variety crafts, games, and playful challenges.